Description
The KeFigo Sash with pockets jeans denim, is the new ultimate way to carry your essentials around.
Material: jeans denim
Zipper pulls and logo-plate: silver matt color
About the KeFigo Sash with pockets jeans denim
The KeFigo Sash combines Italian Fashion Culture with practicality and is designed for women and men on the move.

Carry your essentials (i.e. keys, money, credit card, ID, passport, mobile/smart phone, cosmetics) in the sash, keeping them close to your body while leaving both hands free. Where KeFigo Sash makes an amazing difference:
crossing roads with kids
in the subway/train
 while walking your dog
on your motorbike/scooter
sightseeing
travelling
going to the stadium
SASH FUNCTION
This invention comes with three visible zipped pockets and one secret pocket on the inner side. The money pocket (3rd from the bottom)  in the front has a card holder for 2 cards.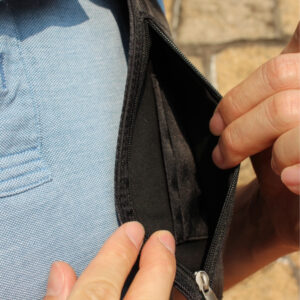 SIZE AND FITTING
It can be easily adjusted in size. It fits most people.
WHAT TYPE OF  PHONES FIT IN THE FRONT POCKET?
The max. phone size is  6.1″ x 2.95″ x 0.33 " (or  15.5 x 7.5 x 0.85 cm)
SECRET POCKET
If the phone is bigger than  the size above, then it will probably fit in the secret pocket.